The mosaic located above the entrance to Jones Chapel at Christ Church was created by Steve M. Solomon III, a lifelong member of Christ Church. The mosaic was installed in 1980.
Solomon's idea to place a mosaic in the gable of Jones Chapel was met with much encouragement from his fellow parishioners. Many years earlier a stained glass window had graced the 8-foot circle on that gable, but it had since rotted away and been replaced with brick and mortar.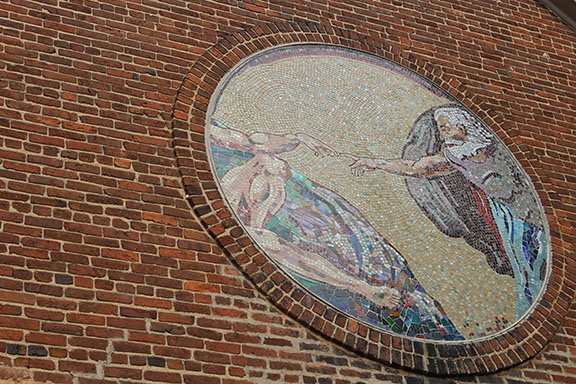 "I decided to execute my project as a mosaic, since it would be outdoors overlooking the court," Solomon explained as he commenced his project. As his subject matter, he chose a detail from one of Michelangelo's panels done in fresco on the Sistine Chapel ceiling. "The panel was 'Creation of Man', which had always impressed me greatly," Solomon said. He was modest about his talent, and, even after completion of the mosaic, said he may have been presumptuous in thinking he could even come close to copying something done by such a genius as Michelangelo. Solomon found it necessary to delete some of the detail in the design because of the medium he had chosen. "My pallet was limited to only 16 colors of glass tile, whereas in painting or in fresco, tones of color are limitless," he said.
After many months of research and searching for the proper tiles and adhesives (a difficult task before the internet), construction of the mosaic commenced in the garage behind his house on Oak Haven Avenue in Macon. Three years later the mosaic was completed in two sections which were brought out into his backyard to be assembled in the frame.
Then, a major setback occurred in early February 1980 when a windstorm with 40-mile-per-hour winds wrought havoc on Solomon's artistic creation. "I heard the old oak in the backyard fall with a great thud," Solomon said in recollection. "I got my flashlight and saw that the tree that had fallen was one that was so old, I had played in it as a boy." The tree had fallen directly across the top part of the mosaic and crushed the wooden frame, driving the top part of the mosaic into the ground. Solomon had to replace approximately 500 of the original 9,000 tiles that had been shattered from their bond by the blow.
Following the tedious repair, the mosaic was installed in mid-1980.
Steve M. Solomon, III passed away in 1997, and his ashes are interred in the cinerarium of the courtyard which is overlooked by his mosaic.