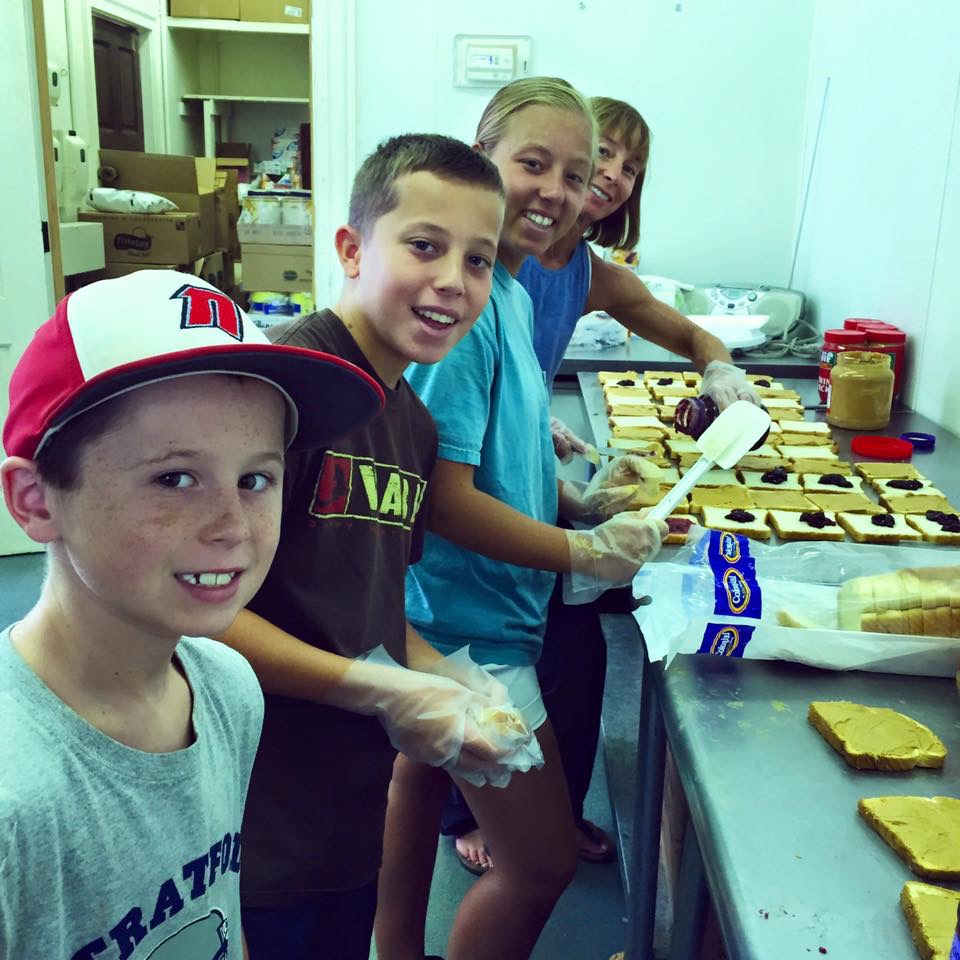 Be sure to check out the EYC section of our blog for latest news!
COMMUNITY SERVICE/OUTREACH
Weekend Lunch – Three times each year, the Youth of Christ Church are responsible for Weekend Lunch. The students prepare and serve a warm meal for around 125 guests, many of whom are homeless and living in poverty. In addition to living out their Baptismal Covenant in a very real way, the young people deepen friendships and learn new ministry skills while strengthening the bond of the body.
Annual Hunger Walk – Each year, the Christ Church EYC has a team in the Atlanta Hunger Walk/Run, which raises funds for hunger-related ministries as well as awareness of the significant issues of hunger and poverty, which affect more than 1.8 million Georgians. This year, our youth – along with 15,000 others – walked and ran the 5L course and collected more than $598,000 to be shared with the Diocese of Atlanta's Episcopal Charities Foundation and many other ministry organizations serving Middle and North Georgia.
30-Hour Famine – For several years, the Christ Church EYC has participated in World Vision's 30-Hour Famine, an exceptional event that gives students an opportunity to study the problem of extreme global poverty in an exciting and full-filled 30 hours of fasting, games, and problem solving. In addition to raising money for World Vision, youth are given opportunities to explore ways they can make a real difference in the lives of people in need around the globe.
Stamp Out Hunger – This is second year the EYC will be part of Stamp Out Hunger, a one-day local event that involves food collected by mail carriers. Our group volunteers several hours to help sort the donations and prepare them for distribution to hungry people in the Macon/Bibb County area.
Abby's Promise Blood Drive – In 2014, our youth group suffered the devastating loss of a 17-year-old friend, who was killed in a tragic car accident. While there is no way to express the sorrow of her death, hope was given to scores of people who benefited from the donation of Abby's organs. To celebrate Abby's birthday and honor the anniversary of her passing, one of her childhood friends (now a senior at Mount De Sales) is organizing a blood drive through a partnership with Christ Church and the American Red Cross.
CAMP MIKELL and DIOCESAN/PROVINCE VII EVENTS
Each year, a number of Christ Church youth return to, or discover for the first time, the beauty, wonder and spiritual inspiration of Camp Mikell. Some attend Youth Camp, Fine Arts Camp, Work Camp and other weeks at Mikell during the summer. Each Fall and Spring, Christ Church takes youth and adults as participants, Sponsors, Chaperones and Team Members to New Beginnings and Happening. Of course, attendance varies with the season and year, but we always have people involved. For example, at New Beginnings 33 (a retreat for middle school students in February), we took five middle school students as participants, four high school students who served on Team, two adult Sponsors and two adult Team members. Several high school students and adults at Christ Church have served and/or are
serving on the Diocesan Youth Committee (DYC), which creates, plans, implements and facilitates a weekend retreat each January for middle school and high school students from across the Diocese of Atlanta. Participation in these events has enabled youth and adults alike to develop deep and lasting relationships with friends from churches throughout Middle and North Georgia. With the help of social media, everyone can stay in touch and encourage each other between reunions at Camp Mikell and other locations.
Christ Church is even blessed to have a number of students and adults who have participated in Province Youth Experience (PYE), which has provided opportunities o be on mission trips and retreats in North Carolina, Michigan, Ohio and Equador with Episcopalians from all the states that comprise Province VII. A couple years ago, some of our young people and adults were even a part of the first ever Province Youth Experience Middle School (PYEMS), a mission team that ministered with the Hearts of Palm Coalition for Homeless Ministries in South Florida. For just over a week, our teams served Christ in homeless shelters, community centers and depressed neighborhoods throughout the area.
POPULAR ANNUAL EVENTS
All our EYC events include prayer and worship in some way, but a number of our annual events are simply centered around laughter, building community and just plain fun! Students and adults alike look forward to the Annual Saturday Night of Joy 24-Hour Road Trip to Disney's Magic Kingdom in Orlando, where thousands of church groups from around the Southeast come together and enjoy the park, the crowds and Christian Rock Music performed all around. We party like/with rock stars into the wee hours, sleep on the ride home, and are back at church in time for Sunday School and worship. Other perennial favorites include the (in)famous Haunted Lock-In, a summer trek to Six Flags Over Georgia, Party on the O (tubing down the Ocmulgee River), Annual Messy Olympics, Christmas Party White Elephant Exchange, Celebration of High School Graduates, and Welcoming of Upcoming Sixth Graders. In May this year, we're adding a new event that we hope will be successful enough to make the calendar every year… a Murder Mystery Dinner presented by the EYC for the entire parish family. Everyone seems excited about the possibilities! In addition, we try to keep a full slate of summer pool parties, scavenger hunts, movie nights, bowling, ice-skating and more. All of these create a wealth of experiences that help build community and give our youth confidence and companionship as they navigate their way through Middle School and High School, laying a foundation for strength on which to draw when they leave home and journey into the world.
FINAL THOUGHTS
Our main ministry goal is to provide a safe, nurturing environment where youth can experience God's presence in their lives as they transition from children to adults with trusted companions who are with them on their journey. By just showing up, we receive the gift of growing in grace into a community of faith and ministry. We invite all young people in grades six through twelve to… Come Play With Us. Come Pray With Us.